A Saucy Serving from Chef Roshni at the Las Vegas Food & Wine Festival

Wine

Chefs

Entertainment

Help
Chef Roshni
GURNANI
She has a unique fusion style of cooking, blending different cultures together.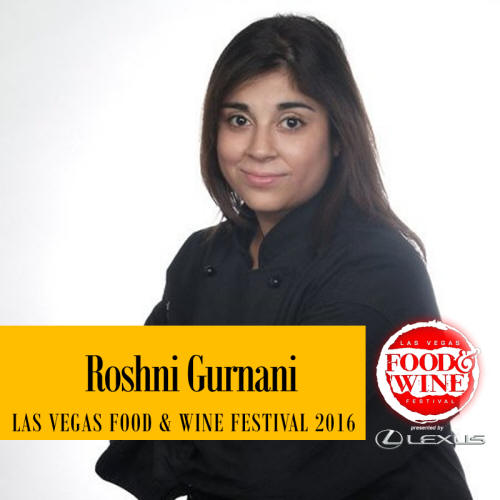 Her hard work and dedication has brought her to where she is today. In 2009, Roshni was awarded "Chopped Champion" on the hit Food Network show Chopped. That same year she was also the first chef in Boston to introduce healthy restaurant-style quality food into college campuses and was featured in the Boston Globe newspaper. This triggered the healthy food scene throughout colleges in Massachusetts. Roshni's wide travels and vast knowledge and hunger for the culinary world has awarded her as being one of the top 5 Indian chefs in USA by India Currents magazine in 2011. In 2011, Roshni was also invited to be the featured chef for Masala, Mendhi, Masti in Toronto, Canada, North America's largest South Asian festival. In 2012, Roshni was a contestant on the very popular FOX TV show Hell's Kitchen with Michelin Star chef Gordon Ramsay. She was the only chef among 18 that Chef Ramsay addressed as a "passionate, well-rounded chef that blended flavors magically."
Apart from having her own catering and consulting company, as well as, a cook book author, Roshni is a culinary professor at The Art Institute of Houston. Roshni also participated in national and international food and wine festivals, competitions and charity events. In 2015 she was awarded first place in the taste of BVI as well as first place in the Austin wine and dine festival. Gurnani is an active member of the community fresh garden program and WIC Houston.