Carmine's NYC featuring Executive Chef Michael Ingino

Wine

Chefs

Entertainment

Help
Executive Chef Michael Ingino, Carmine's New York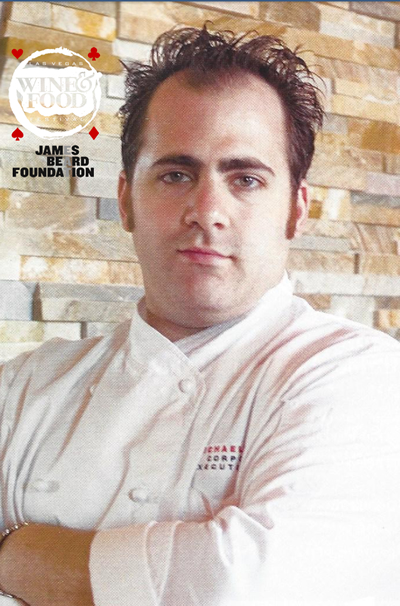 Michael Ingino hasn't been with Carmine's New York very long... but you might almost say it was his destiny.
" I didn't start with Carmine's," says Mike, "but I went to Carmine's growing up--if you live in New York, you've been to Carmine's. It's an institution. "
No kidding: The restaurant, which specializes in family style dishes of classic Nu Yawk Italian (with some Southern Italian touches), is closing in on 25 years of feeding folks generous portions of dishes like chicken wings Scarpariello, veal scallopine, country style rigatoni, and steaming Porterhouse steaks.
If it seems like Carmine's was tailor-made for a large dinner party, you are on the money. In fact the Vegas location has no less than nine private dining rooms of varying sizes--unless of course, you just want them to push some tables together out on the floor where all the action is. Don't be surprised to see a waiter break out in an aria!
Born in Brooklyn and raised in Staten Island, the chef who opened the booming Las Vegas outpost a little over a year ago is such a good fit, you wonder how he hasn't been with them longer. After attending culinary school and working "all over New York City" (including Jean-Georges' JoJo and the late, lamented Windows on the World at the World Trade Center) Ingino came to Las Vegas at the tender age of 21, working for local legend Gustav Mahler among others.
About their famous meatballs, Chef Michael says they go through two recipes of about 250 meatballs every day. "They probably make three recipes in Times Square every day," where Michael first trained to joined the Carmine's group. Hope you're hungry!
Join us at this one-of-a-kind event which will be held at the legendary Casino and Resort in fabulous Las Vegas, Nevada. This year's event benefits The James Beard Foundation