Matthew Fresinski at the Las Vegas Food & Wine Festival

Wine

Chefs

Entertainment

Help
Matthew Fresinski
Corporate Chef V&E Restaurants
Matthew started his cooking career at age 13, he began working at a small seafood restaurant in his hometown of Ithaca NY. At the age of 14 he knocked on the back door of Renee's American Bistro, and asked Chef Renee Senne if he could help out in anyway, she put him to work right away, he worked there as much as possible over the course of 4 years, with his only compensation being knowledge.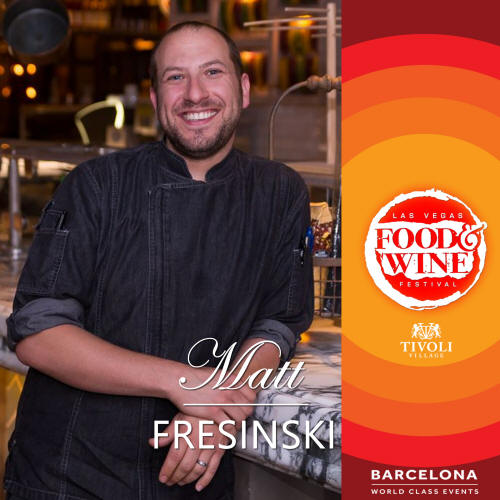 After Graduating from High School, Matthew attended the Culinary Institute of America, while attending Matthew did his extern at Aureole in Las Vegas. After graduating in 2001, he returned briefly to Ithaca, and after a couple of months he convinced his brother to move with him to Las Vegas.
Once in Vegas, Matthew started at Gordon Biersch, and quickly became a corporate trainer, traveling the country opening new locations and rolling out new menus. After Gordon Biersch, Matthew held jobs on and off the strip and landed at Louis' and Louis' Fish Camp in Town Square under two James Beard award winning Chefs, Carlos Guia and Louis Osteen. Here Matthew developed his passion for low-country cuisine. Unfortunately, both restaurants closed shortly after a year. Matthew then found himself at Wynn/Encore as a sous chef at Society Café, working under Chef Kim Canteenwalla, Matthew was promoted to executive sous and then to Chef de Cuisine. While with Chef Kim, Matthew helped open Buddy V's in the Venetian as well as worked at the Riviera, during this time he learned a great amount about restaurant operations.
Matthew was then brought in as the Executive Chef of Café Americano inside Caesars Palace. Working for V&E Restaurants they quickly turned a failing restaurant into something amazing. V&E then opened another restaurant, Mercato Della Pescheria inside the Venetian, Matthew was asked to oversee both locations with more to come.
Overall, Matthew has been on the opening team of over a dozen restaurants, and he has an undying passion for all things culinary. He has shared this adventure with his amazing wife and best friend Katinka, his 9-year-old son Caleb and their newest addition 14-month-old Hudson.
V&E Restaurants