Chef Joey M. Jaraba Jr. began his life in Florida Blanca Pampanga, Philippines. The son of a Navy Chief Petty Officer, Joey immigrated to the United States at the age of seven. He spent his childhood living in many locales including Midway Island, Corpus Christi, Texas, and San Diego, CA.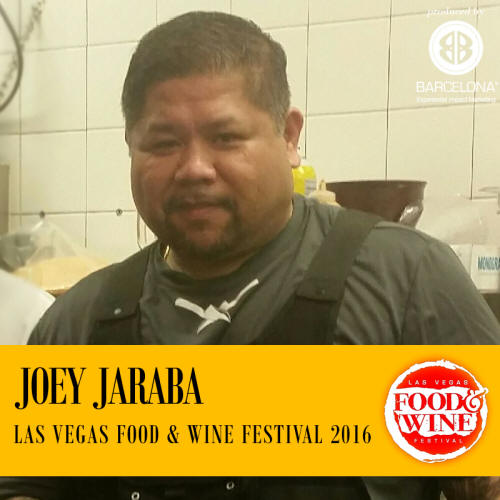 In 1991, Joey was hired as a regional manager for a brokerage firm selling to AAFES and Navy Exchanges. With this position, he was able to have his first experiences as a patron of fine dining and was inspired to make a life changing career move. In 1995 Chef Jaraba attended Lederwolff Culinary Academy in Sacramento, CA. As one of the top students of his class, he graduated with a 4.0 gpa.
A culinary graduate, Chef Jaraba was able to put his newly developed talents to use in an unlikely, but useful location, a popular truck stop in Fairfield, CA. After less than two years at Lou's Junction, Chef Jaraba worked his way through many small restaurants and kitchens throughout Solano and Napa County. During his year as Sous Chef at Hiddenbrooke Country Club, he became the Personal Chef to players for the LPGA and Samsung VIP's. These organizations enjoyed his energy and creativity in the kitchen so much that he was asked to work with the Samsung LPGA Invitational, a major golf tournament, for the additional two years.
Only in 1999 was Chef Jaraba able to gain complete control of his kitchen when he became the Executive Chef of Stars Recreation Center in Vacaville, CA. Not only is Stars home to 40 lanes of bowling, Q-ZAR laser tag, pizza kitchen, four banquet rooms and areas, but is home to one of the hidden gems of Solano County, City Sports Bar and Grill. It is in this kitchen that Chef Jaraba blends his professional culinary training with influences from Filipino, Asian, and Italian cuisines. It's unexpected that one could enjoy spicy Ahi poke, Fillo Crusted Salmon with Bay Shrimp Pizzaello cream sauce, numerous signature dishes and Certified Angus Beef © Prime Rib in a sports bar but Chef Jaraba has made it possible.
Additionally, his ingenuity has won him many awards and accreditations throughout the area. He recently became a certified Master Taster for the nationwide food tasting group- American Culinary Chefsbest. U.S. Foods has also appointed him as the featured chef for Roseli Italian foods at their food shows.
From a child in the Philippines to the executive chef of Stars Recreation Center, Chef Jaraba has used his many life experiences to shape his signature cuisine he presents today. Please enjoy