V&E Restaurant Group
Francesco brings Italian Culinary Tradition to Las Vegas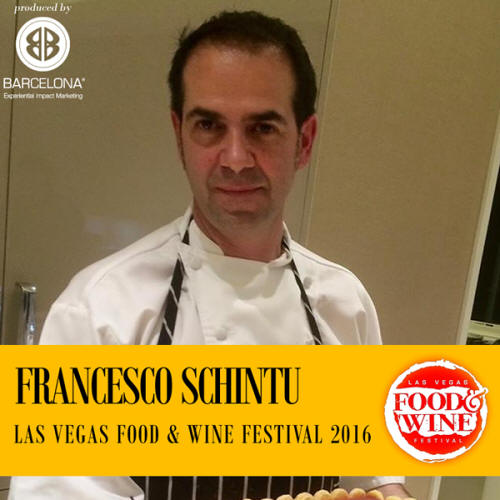 At age 15, after his High School graduation, Francesco obtained his first job in a hotel close to his hometown, Bosa, in Sardinia, one of the most beautiful fishermen villages, where its people still keep the same lifestyle almost unaltered from the Middle Age. Working at 4 stars hotels like Sporting Porto Rotondo and Li Cuncheddi on the amazing Emerald Coast in Sardinia gave the young chef the opportunity to experience quality cuisines.
At age 17, he decided to search for new experiences outside of his home in Bosa.
He worked at Park Hotel Concordia in Cortina D'Ampezzo, Hotel Maya in Novara with Master Chef Vedani, Hotel La Rotonda owned by the De Agostini family and Ristorante Cicognola on the spectacular Maggiore Lake, favorite place of the 80'pop music group "Milk and Coffee".
It was at the Hotel Cenobio dei Dogi in Camogli where Francesco began to achieve the secrets of the typical Liguria cuisines from the Master Chef Emilio Pagani.
After almost 5 years spent between Tuscany and Veneto at Hotel Elba International and Grand Hotel San Giusto in Falcade, he became Assistant Executive Chef from Master Chef Oglina. In 1993, Francesco decided to go back to Liguria and was welcomed in one of the most historic Italian restaurants, La Villa Manuelina di Recco. This restaurant it is so strongly rooted in its tradition that not a single recipe has been changed since its opening in 1895!
Working there for more than 6 years was not only a life lesson in the job of a chef, but also a great opportunity to meet important people from every industry.
Francesco had the honor to cook for:
The Duchess of York, Lady Sarah Ferguson and her noble Italian companion.
Actors such as Vittorio Gassman, Paolo Villaggio, Giancarlo Giannini
Dancers like Carla Fracci Carmen Russo and Enzo Paolo Turchi
The Nobel Peace Prize Winner for physics, Mr. Zichichi
Italian Prime Minister Silvio Berlusconi
Catholic Church Representative, Monsignor Cardinal Siri of Genoa.
The Mr.Gianni Agnelli's Family
Soccer players such as Mancini, Vialli, Cereso, Sinisa, Mondonico, Montella and Gullit
Mr. Mantovani, The Dufur family owners of a big candy factory
And many more.
During his time at the Manuelina, Francesco created his own recipes, recognized by important Italian magazines like Pasta & Co. The Master Chef Gianpaolo Belloni wanted The Sardinian Chef to be on his Staff.
The Zeffirino's family, which owns one of the most popular restaurants in Italy
(A favorite place of Pope John Paul II, Frank Sinatra, Luciano Pavarotti, former U.R.S.S. Michael Gorbaciov and many more) gave him the opportunity to represent them internationally. Francesco traveled to Quebec, Canada to work at Michelangelo's in 1994 bringing Italian tradition with him. In 1998 he took his talent to New York at Fiorello's and Trattoria dell'Arte. When the Belloni family partnered with one of the most important caterers, Mr. Vincent Scotto and Associates from Long Island, to open the first Zeffirino in the USA, the position of Executive Chef was offered to Francesco. Today, Zeffirino is one of best restaurants in Las Vegas with many awards under its belt for Bakery Tintoretto and Pizzeria Enzo.
In 2002, Fracnesco received the Culinary Excellence Award from the Quality Institute International for "Outstanding Service and Dedication" and was awarded again in 2005 from Chefs in America Award Foundation for "Best Italian Chef Las Vegas". In March 2006 he was awarded from the same Foundation for "Las Vegas' Top 100 Chefs" and again in November with one medal for "Maître Du Gout".
Francesco used his spare time to achieve his dream and attended The toile Culinary School in Venice to achieve his third degree and in the next few years will probably become one of the youngest Master Chefs in the USA.
The Executive Chef of Zeffirino is recognized by celebrities such as:
Celine Dion, Jean Claude Van amme, the two time Olympic Gold Medal and World Champion Skier Alberto Tomba, Steven Segal, Nicholas Cage, Sugar Ray Leonard, Goldie Hawn, KKurt Russell, Latoya Jackson, Miss America 2007 Lauren Nelson, Mike Tyson, Veronica Castro and family, Garth Brooks, Paul and Mira Sorvino and many more.
After 13 Year asspan Executive Chef for Zeffirino Restaurant, FFrancesco accepted another challenge with a different concept and organization than simpler restaurants. He began working with larger hotels and busier kitchens inside The Venetian Hotel and The Palazzo Hotel Resort and Casino as Executive Room Chef where he currently continues working today.