Aureole: Executive Chef Vincent Pouessel

Wine

Chefs

Entertainment

Help
Executive Chef Vincent Pouessel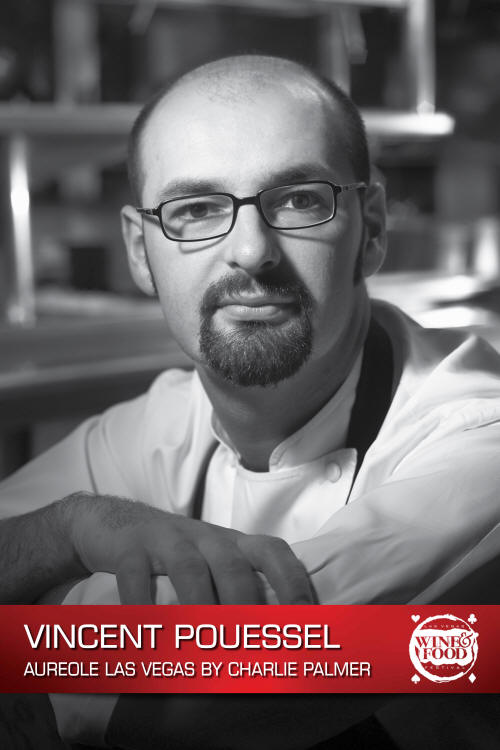 Among the elite of veteran chefs running the Vegas Strip's finest restaurant kitchens, Aureole's Vincent Pouessel is tireless in his reinvention of classic and innovative dishes, informed by both his classical French training and the American ingredient traditions of Chef Charlie Palmer.
Pouessel's pedigree is about as good as it gets. Born and raised in Brittany, with its fine tradition of coastal seafood, Vincent's first job was assisting his aunt and uncle in their butchery and charcuterie. Thus he grew to respect the ingredients of both land and sea from an early age. While first learning to cook in France, he cut his teeth in England during the beginnings of the culinary revolution there, before returning to France and serving his time in the French Army as a mess cook. From there, he learned to create market inspired menus at Maxim's Paris, then refined his technique under Alain Ducasse at the Restaurant Jules Verne in the Eiffel Tower. With five years' experience there, he was lured to the other city of lights, Las Vegas, joining the renowned Phillippe Rispoli at Aureole and hasn't looked back since.
"The kitchen is one of the best places to understand and have a true idea of respect – for people and your product," Vincent has said. "I give attention to each detail. As much as I can, I make the product my number one focus.... The star is the product, not the chef."
A recent tasting reveal the delicate artistry of Vincent's approach, including a light but appetizing Fukuoka Bay hamachi crudo (accompanied by pickled dragonfruit and cucumber salad with a galangal ponzu sauce); a gorgeous composition of ahi tuna and tomato bread, with minute diced ratatouille and greens; and a deceptively satisfying Ricotta cheese cavatelli with Italian sausage, "Apricot" chanterelles, sweet peas and rapini. Check out our video here to see Vincent make the latter. http://youtu.be/kR_mHDuheqo?list=UUOczrIEdLhkRpo22sU7dWew He maintains Bretagne fleur de sel from his own home turf as one of the most essential ingredients in his kitchen. Who would want to argue?
Join us at this one-of-a-kind event which will be held at the legendary Casino and Resort in fabulous Las Vegas, Nevada. This year's event benefits The James Beard Foundation