Food Network Star Chef Eddie G at the Las Vegas Food & Wine

Wine

Chefs

Entertainment

Help
Executive Chef Eddie G
Eddie G
My culinary journey began with my Irish and German parents, in the Yorkville and East Harlem neighborhoods.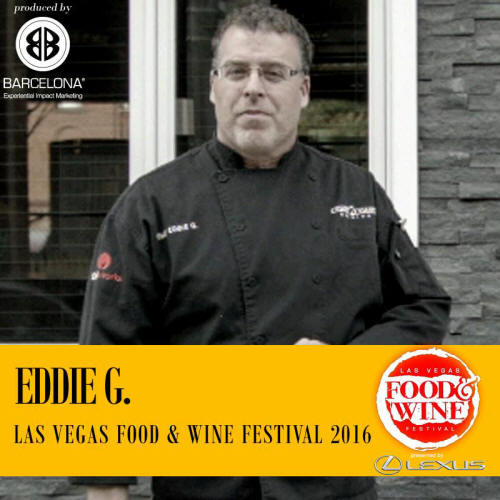 Edward and Leona Gallagher had their first son, right here in East Harlem, where generations of immigrants nestled into this corner of Manhattan mixed it up, clashed and collaborated. And like all sons and daughters of the old country, they brought with them culture, customs and FOOD!

Growing up, food was the element that brought us all together. As a boy I would stand on a wooden stool helping my mother prepare the family dinner. As a young man in high school, I took my first job at a local Italian restaurant. Here I witnessed the power a good meal had and the beautiful experience of feeding guests. A true chef has to love hospitality as much as they enjoy preparing the dish. I learned this as a young man and it has driven my passion for this industry ever since.

Immediately out of high school, I attended Johnson & Wales Culinary School. There was nothing more interesting to me than pursuing a life of creating great dishes and memorable experiences for guests. Graduating culinary school, I flew out of the pan and into the fire, moving to all parts of the country where I would have the opportunity to hone my craft. From Johnson & Wales in Providence, RI, I took a management position at the Breckenridge Resort in Colorado, then managing three restaurants and one- hundred employees on Seabrook Island, SC.

Seabrook Island is as naturally beautiful as the postcards, but the food...wow! The boat was the station wagon and the Atlantic Ocean was the market. Chefs from up and down the East Coast would stop by the Island in the summer to cook and trade dishes with other chefs. Absorbing it all, I developed a unique East Coast cooking style and set off to open my own restaurant.

I moved back to New York and opened two restaurants in Long Island, but the travel bug had already bit me. Food Festivals, cooking shows, private parties...I wasn't meant to sit still. I began traveling as a young talent looking for a job, but really I just loved to travel. Meeting new people, tasting new foods and learning new cultures inspired everything I had accomplished in the kitchen. I now host at more than thirty Food Festivals globally, as a "celebrity chef"...Me... a celebrity. Ha! It is incredible what an amazing life you can create when you follow your dreams.

International Food Festivals and traveling eighteen countries for the thrill of cooking wasn't enough. Feeling I can do more, I set out on my next venture and every chef's dream. Opening a restaurant in Manhattan and what a better place than coming back to East Harlem, where I was born.

Chef Eddie G's Kitchen is not just my first NYC restaurant. It is the culmination of a thirty year project that is still collecting information. Every new place I travel, every guest's comment and every new flavor I find makes its way into the kitchen and your dish.

So, please, come in and enjoy the food experience as much as I enjoy creating it for you!
Join us at this one-of-a-kind event which will be held at the legendary SLS Las Vegas Casino and Resort in fabulous Las Vegas, Nevada.