Diane Mina at the Las Vegas Food & Wine Festival

Wine

Chefs

Entertainment

Help
Diane Mina
Diane Mina Garden Grown Blends - Diane's Bloody Mary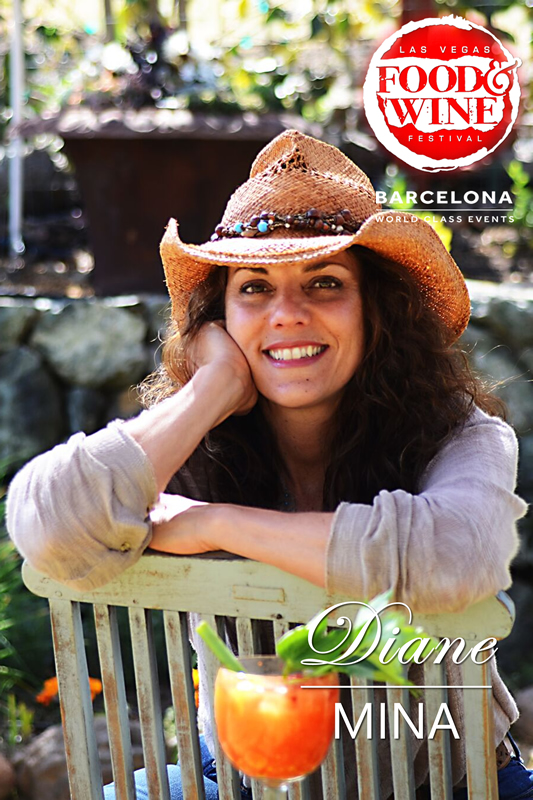 Born 1967, in Long Island New York to Joseph and Judith Tirado, Diane began her love affair with the bloody mary at a very young age. It was on those subtropical hot summer weekends she would gather with her family and friends. Aunties, uncles, grandparents, cousins, and neighbors all gathered to Charlie Campagne; "Pop-Pop's" home located in Suffolk County. In preparations for the days' feast, Pop-pop would head out at the wee hours of the morning to Lake Ronkonkoma's shallow shoreline digging up those meaty, rich, salty-sweet "cherrystone" clams that some east coasters consider a food group. Cherrystones clams, sweet corn on the cob, boiled russet potatoes, jumbo shrimp and for the kids, Nathan's Famous Hot Dogs, and an East Coast favorite … The Chocolate Yoo-hoo Drink…
Three decades later, "Diane's Bloody Mary" was born.
In 1990, Diane falls in love and marries a young man by the name of Michael Mina. Together they share a great passion and desire to go beyond the standards in the hospitality industry focusing on food & beverage. Partners in marriage and in business.
In 2004, Michael and Diane Mina founded the restaurant company, Mina Group LLC in San Francisco California which own and operate 45 restaurants across the globe.
In 2010, they found a small ranchette spanning a little over 2.5 acres in West Marin's intimate town of Nicasio. This is where Diane immediately became a large-garden grower. With the help of a local landscape designer, Diane planted over 200 varietals of tomatoes, herbaceous herbs, and chili peppers. This idyllic setting is where Diane strengthens her knowledge and palate creating the foundation for the garden grown cocktail mixers you can enjoy today.