Zenshin Asian Restaurant featuring Executive Chef Yoji Shimonishi

Wine

Chefs

Entertainment

Help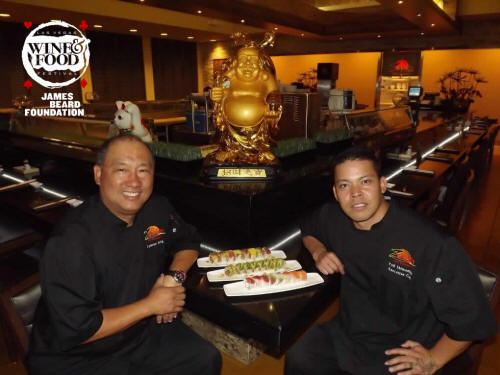 Executive Chef Yoji Shimonishi at Vegas Food & Wine
Zenshin Asian Restaurant Owner/Chef Terence Fong
Zenshin Asian Restaurant at the South Point Hotel & Casino may seem like a relative newcomer to the Vegas dining scene, but behind it lies more than three decades of experience in the Las Vegas dining scene, both on and off the Strip. That's how long Hawaiian native Chef Terence Fong has been here, working in restaurants that older Las Vegans are likely to remember with esteem, including Wolfgang Puck's Chinois, Palace Court at Caesars Palace and MGM's Gatsby's. But it was when Fong branched out and returned to his roots with the Hawaiian-focused Island Sushi that he was able to first make his own mark.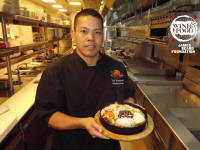 Now, at Zenshin, Fong--along with his Executive Chef Yoji Shimonishi--is able to collect all of his experience with a broad variety of cuisines. "It's Japanese, with a fusion of Korean, Chinese, and Hawaiian food," says Fong.
Thus, you'll find everything from gingery fried Gyoza, elegant clean sashimi and classic Sukiyaki to succulent Korean Kalbi short ribs, ahi poke tacos, and even made-to-order warm malasadas with custard for dessert.
There's no shortage of creative rolls, like the addictive "8 Second Bull Ride" (created for visitors who attend the South Point Equestrian Center's many rodeo events), a creamy surf-n-turf concoction of snow crab, avocado, tempura asparagus, topped with seared Wagyu in truffle essence.
"Clean refreshing flavors," is the unifying theme, Fong says, "with a balance of old school like the Sukiyaki and new things, like the spiced edamame."
Small wonder that Zenshin won the Las Vegas Review-Journal's Best Happy Hour category for 2013: their menu of specialty drinks and bar bites is a thing of wonder, including crispy Teriyaki chicken and spicy ahi pizzas!
Fong and Shimonishi are continually revamping the menu, maintaining a happy crowd of regulars while appealing to customers willing to try new things. "Zenshin means 'moving forward' in Japanese," Fong explains. "And I'm always telling my people, 'let's move forward.'"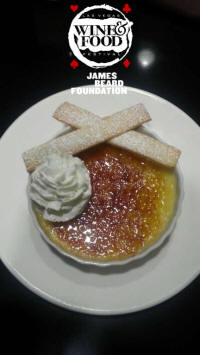 Join us at this one-of-a-kind event which will be held at the legendary Casino and Resort in fabulous Las Vegas, Nevada. This year's event benefits The James Beard Foundation