PreGel: Dazzling the guests at the Food & Wine Festival

Wine

Chefs

Entertainment

Help
Executive Pastry Chef Frederic Monti at Vegas Food & Wine
Corporate Pastry Chef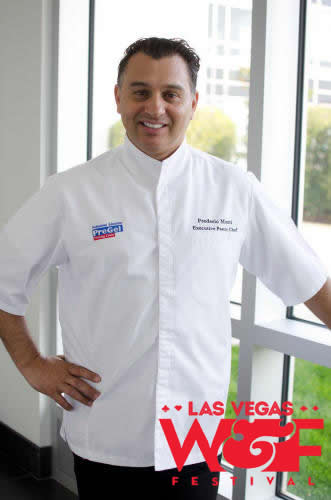 Frederic Monti, a native from France, joined the PreGel AMERICA culinary staff in 2009 as the corporate pastry chef. As PreGel's corporate pastry chef, he has truly redefined the company's approach to the pastry world through product development and higher learning. Responsible for the launch of PreGel's 5-Star Pastry Series, he has brought some of the world's top pastry chefs to teach the exclusive set of seminars dedicated to providing a high level of instruction on pastry and desserts.. He is also the chef behind the newly launched 5-Star Chef Pastry Select line of PreGel products, assisting in perfecting the formulas of superior pastes and compounds just for the pastry chef. Still a force in the kitchen, he is the mastermind of hundreds of recipes that come out PreGel's Professional Training Center, and contributes to many of the industry's top publications such as Pastry & Baking North America, Dessert Professional and So Good.
Chef Frederic Monti is known for his beautiful presentations of desserts, but also for creating amazing flavors and texture combinations. His craft leads him to explore his imagination, which unfolds into impressive plated desserts, entremets, petit gateaux, and inspiring sugar and chocolate showpieces. The pride Chef Monti takes in the careful execution of his desserts has gained him numerous awards.
While still a competitor at heart, Frederic Monti turned the tables in 2008 and coached a team to first place at the National Bread and Pastry Team Championship. His discipline and leadership skills as a coach stem from his many years competing in the pastry industry. After winning a Silver Medal at the National Pastry Team Championship in 2003, Chef Monti returned in 2007 as a member of Team Branlard and together they achieved a gold medal. Chef Monti's many other accolades include being named one of the "Top Ten Pastry Chefs in America" in Pastry Art & Design magazine for consecutive years (2003 & 2004) and being featured on the Food Network for his dynamic sugar artistry.
With over 30 years of experience, Chef Monti has worked for some of the top resorts and restaurants in the world. Prior to joining PreGel AMERICA, he was the executive pastry chef at the renowned Greenbrier resort. He also served as executive pastry chef for the Ritz-Carlton Buckhead in Atlanta and The Ritz-Carlton, Naples. Chef Monti's other previous experiences include positions as pastry chef at Brasserie Le Coze in Atlanta, GA, and Le Clos de la Violet in France, one star Michelin. He began his career at the age of 14 with a culinary apprenticeship in France.
Frederic Monti's immense skill as a pastry chef is only matched by both his charm and dedication to this fascinating industry. He truly is a well-rounded chef with a plethora of experiences in all areas, and this versatility is what keeps him current and a continued force in the industry.
Join us at this one-of-a-kind event which will be held at the legendary Casino and Resort in fabulous Las Vegas, Nevada. This year's event benefits The James Beard Foundation