Chef of the year & James Beard Award Winner Francois Payard at the Las Vegas Food & Wine

Wine

Chefs

Entertainment

Help
Executive Pastry Chef Francois Payard
François Payard
François Payard is a third generation French Pastry Chef born in Nice on July 16th, 1966. François cultivated his passion for the art of Pastry as a child in his grandfather's acclaimed shop, Au Nid des Friandises on the Riviera. He grew up surrounded by delicious, classic French pastries, a tradition carried on by his parents and grandparents for over fifty years.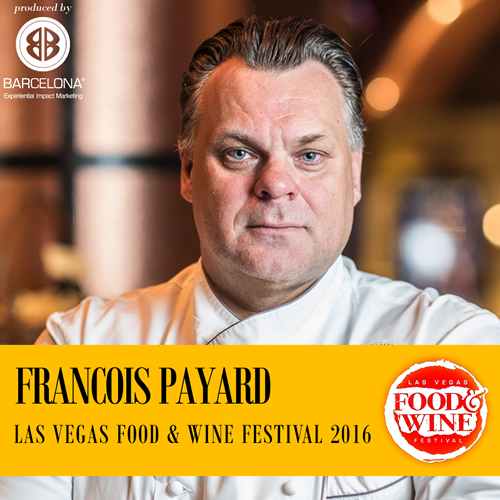 After honing his skills in classic pastry by his family's side, François moved to Paris where he learned the artistry and refinement of transforming traditional desserts into exquisite plated presentations. These new tastes, textures and originality opened new horizons in his career. His dedication and passion earned him positions in several of France's finest kitchens. In 1988, François held his first position as Pastry Chef in Paris at La Tour d'Argent, (***Michelin). The following year he went on to become Pastry Chef in the kitchen of Alain Senderens at Lucas Carton (***Michelin). In these renowned restaurants he met the challenge of creating dessert menus worthy of a three star Michelin rating.
François' desire to travel and discover a new culture brought him to New York in 1990 where he was eager to experiment with new ideas, flavors and techniques. His first position in New York as Pastry Chef at Le Bernardin (****NY Times), challenged him to create a new dessert repertoire. Francois became known for his beautifully presented creations, bursting with unique flavors and balanced taste. In 1993, François joined Chef Daniel Boulud for the opening of Restaurant Daniel (****NY Times) where he delighted guests with his chocolate and seasonal fruit menus. In 1995, The James Beard Foundation named François "Pastry Chef of the Year" in recognition of his accent on flavor combined with a unique sense of pastry design.
In August of 1997, François' childhood dream of opening his own restaurant, Payard Patisserie, became a reality. There, François strived to innovate, perfect, educate and contribute his ideas and passion to the field of pastry. Considered one of Manhattan's finest culinary destinations for 12 years, Payard Patisserie closed its doors in July 2009.
In 1998, François was awarded "Pastry Chef of the Year" by the Bon Appétit Food & Entertainment Awards and again in 2001 by the International Pastry Competition Committee – Beaver Creek. In July of 2004, François was honored with the prestigious Ordre du Mérite Agricole, Medal of Honor by the French Government, and in 2005, received Wine Spectator's Award of Excellence for having one of the most outstanding wine lists in the world. In 2006, he was selected as a member of Relais Desserts International, a professional association of the 85 Best Pastry Chefs in the World, and in 2010, he was honored with the Dom Pérignon Award of Excellence.
Branches of Payard opened at Caesars Palace in Las Vegas, Japan and Korea. In November 2009, the François Chocolate Bar opened in New York City. Described as "a chocolate jewelry shop," this shop was devoted to Chef Payard's chocolate creations. In September 2010, François opened FPB, a casual bakery on West Houston Street in downtown New York City. FPB is the first of several collaborative projects from François and restaurateur Marlon Abela of Marlon Abela Restaurant Corporation (MARC), whose portfolio also includes the A Voce restaurants in New York City, as well as other restaurants in the U.S. and London. A second location of FPB opened in Battery Park City in October 2012 and a third location opened in May 2012 at Columbus Circle. Francois opened his first FP Patisserie at the Plaza Hotel in the Todd English Food Hall in the spring of 2012. In October 2012, he opened his flagship location of FP Patisserie on the Upper East Side of Manhattan. FP Patisserie features an elegant bar, pastry shop and salon de thé.
Not just a chef, François is also the author of the popular cookbooks "Bite Size: Elegant Recipes for Entertaining", Simply Sensational Desserts" and "Chocolate Epiphany: Exceptional Cookies, Cakes, and Confections for Everyone". He is currently working on a fourth book, which should be available in the fall of 2013.
Join us at this one-of-a-kind event which will be held at the legendary SLS Las Vegas Casino and Resort in fabulous Las Vegas, Nevada.