Barry Callebaut with Alicia Boada at the Las Vegas Food & Wine

Wine

Chefs

Entertainment

Help
Master Pastry Chef Alicia Boada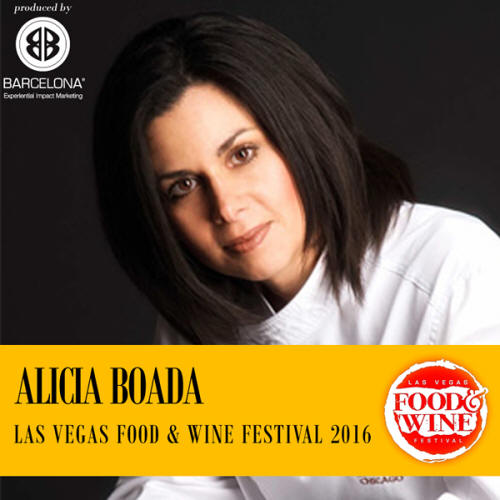 Alicia Boada Women Chefs & Restaurateurs WCF President
Alicia Boada brings passion for chocolate, from the contemporary entremet to cakes and chocolate showpieces, this wide-ranging knowledge of pastry has led her to her most recent role as Barry Callebaut's West Coast Technical Consultant for the Chocolate Academy USA.
Boada's formal training began in 1992 in Chicago, where she attended the Culinary School of Kendall College. Since then, Boada has moved worldwide apprenticing under Master Pastry Chefs and Master Confectioners. After honing her skills, she returned to settle in the US working in NY, LA and Chicago.
Boada's past experience includes entrepreneurship where she successfully launched a retail bakery specializing in cakes, and later, a wholesale dessert company. Word of Boada's spectacular cakes grew quickly, and Victoria Magazine featured one of her cakes on its cover and nominated her for Female Entrepreneur of the Year. Chicago Magazine named her Best for Custom Made Cakes and Pastry Art and Design Magazine named her one of the top five cake designers in the US.
Boada sold her business in 2002 and moved to Los Angeles to work as an educator with Le Cordon Bleu North America. Since then thousands of students have benefitted from her expertise and skill in pastry and design. Boada was instrumental in rolling out LCB's Patisserie and Baking Program that included the recipe testing and curriculum development for 12 different classes ranging from sugar and chocolate work to laminated dough and plated desserts. Boada is a member of the American Culinary Federation (ACF), a Certified Executive Pastry Chef, a Certified Culinary Administrator and a Certified Culinary Educator. These distinctions place her among a handful to have three Executive Level Certifications from the ACF. She has begun representing the ACF as an Approved Certification Evaluator (ACE) and currently stands as the only CEPC- ACE in
the state of California proctoring exams towards certification.

As one of four Chocolate Academy Techs, Boada assists Barry Callebauts' customers with a vast range of chocolate needs. Residing in Los Angeles, her territory is Las Vegas and the West Coast however her consulting often brings her to do demonstrations and training worldwide staying on the leading edge of what's happening in Barry Callebaut's pastry and chocolate world.
Join us at this one-of-a-kind event which will be held at the legendary SLS Las Vegas Casino and Resort in fabulous Las Vegas, Nevada.